Summer Choral Festival Faculty
Dr. Patrick Walders, Bass
Co-Founder and Artistic Director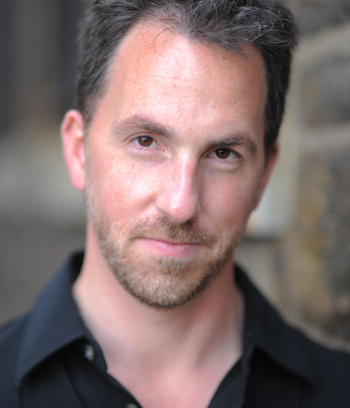 A native of Buffalo, NY, Patrick Walders maintains an active career as a professional vocalist, music educator, church musician, clinician, and conductor. Joining the faculty in August 2011 as Director of Choral Studies at San Diego State University, he was charged with building the undergraduate and graduate choral program. Now an Associate Professor, he conducts the Aztec Concert Choir, SDSU Chamber Choir, and oversees the University Chorus. He leads a thriving graduate program in Choral Conducting that offers the Masters of Music degree and Artist Diploma. He was voted Most Influential Faculty Member in 2013 and 2014 by the most outstanding graduate of the School of Music and Dance. In 2015, Patrick earned the California Music Educators Association Choral Educator Award for the state of California.
Off-campus, he and his wife Katie founded the San Diego Pro Arte Voices, a professional chamber choir and non-profit organization engaging professional artists of all disciplines for the advancement of the arts in San Diego. He is Founder and Artistic Director of the annual San Diego Summer Choral Festival & Conducting Workshop designed to give teachers, church musicians, students, amateurs, and professionals a high-quality summer choral performing outlet and conducting experience.
Walders joined the La Jolla Symphony & Chorus as Choral Director in July 2017, preparing and conducting world premiers and symphonic masterworks with outstanding musicians from San Diego. He is honored to succeed Choral Director Emeritus, Dr. David Chase, after his 43 years of service to the organization.
Patrick has led Honors Choruses and workshops in every corner of the United States. His international conducting experience includes teaching and guest conducting in Austria, England, Germany, and the Czech Republic. In 2016-2017, he will conduct the 2016 MACCC 2-Year College Honors Chorus in California, the 2016 New York All-State Women's Chorus and return to Salzburg, Austria to headline the Goldegg Seminar für Chorleitung und Chorgesang 2017 – a workshop for vocalists, conductors, and teachers.
For five seasons, he was the Associate Conductor of the National Philharmonic Chorale and Artistic Director of the National Philharmonic Singers based in Washington, DC and made his National Philharmonic debut conducting Handel's Messiah in 2006 earning positive reviews from The Washington Post.
As a professional baritone soloist and consort artist, Patrick has performed throughout the northeastern United States and southern California. He sings with the Bach Collegium San Diego and The Berwick Chorus of the Oregon Bach Festival and freelances. He carries a small private voice and conducting studio. Patrick specializes in Vocal Pedagogy as it pertains to ensemble settings and is an avid conducting pedagogue. His dissertation titled, Vocal Pedagogy and Applications for Conductors Not Trained in Singing, is proving to be a valuable resource (found online) for vocalists as well.
When time allows, he enjoys arranging choral music for small and large vocal forces. His setting of Coventry Carol for SSATB choir, soprano solo, and optional handbells was published by Shawnee Press.
Patrick holds a bachelor's degree in music education from the State University of New York (SUNY) College at Fredonia, a master's degree in choral conducting from the Westminster Choir College and a doctorate in conducting from the University of Maryland- College Park. He taught public school (7-12th grade) in western New York, and is passionate about teaching future music teachers, enabling them to be significant ambassadors not only for choral music, but also for all the Arts.
---
Jennifer Paulino, Soprano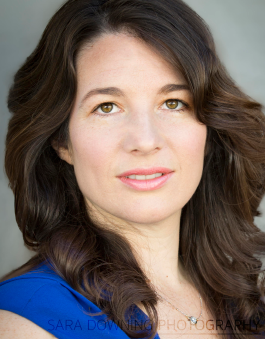 Described as a "subtle, expressive singing actress" by San Francisco Classical Voice, Jennifer is gaining recognition as an important interpreter of baroque and contemporary music. Her performance in Handel's Messiah with Seraphic Fire (Miami) in 2010 was praised in South Florida Classical Voice: "The sheer beauty and sincerity that soprano Jennifer Paulino brought to I know that my Redeemer Liveth would be hard to equal."
Equally renowned for her stunning voice and her dramatic capability, she is in increasing demand as a versatile concert artist. Recently, Jennifer was a national finalist at the 2012 Artist Awards Competition of the National Association of the Teachers of Singing (NATS) for her interpretations of works by Purcell, Handel, Schubert, Poulenc, and Stravinsky. Past concert highlights include the title role in Handel's Acis and Galatea, Belinda in Purcell's Dido and Aeneas, Vivaldi's Dixit Dominus, and Handel's Ode to St. Cecilia.
Jennifer performs regularly as a soloist with the Magnificat Baroque Ensemble (Berkeley, CA) and her Baroque ensemble, Les graces. She has also appeared as a soloist with the California Bach Society, San Francisco Bach Choir, Southwest Florida Symphony, Farallon Recorder Quartet (Berkeley, CA), San Francisco Choral Society, Leiden Baroque Ensemble (Netherlands), Catacoustic Consort (Cincinnati), Seraphic Fire (Miami), and Nova Silesia (Poland). Her festival appearances include: San Francisco Festival of Contemporary Music, Berkeley Early Music Festival, the International Chamber Music Festival in Olsztyn, Poland, and the Organs Festival of Ballarat, Australia.
---
Dann Coakwell, Tenor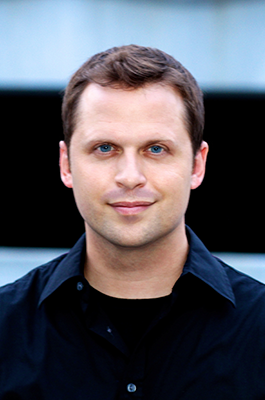 Dann Coakwell, tenor, has performed as a soloist internationally under acclaimed conductors such as Helmuth Rilling, Masaaki Suzuki, William Christie, Nicholas McGegan, Matthew Halls, and the late John Scott. He can be heard as a soloist on the Grammy-winning The Sacred Spirit of Russia (2014), Grammy-nominated Considering Matthew Shephard by composer/director Craig Hella Johnson (2016), which peaked at number three on the Billboard Classical chart, and Grammy-nominated Conspirare: A Company of Voices (2009). All three collaborations joined Conspirare on Harmonia Mundi records. He also appeared on the Naxos release of composer Mohammed Fairouz's Zabur (role: Jibreel), with the Indianapolis Symphonic Choir and Orchestra, which Napster.com praised as one of the top 10 best classical albums of 2016.
Coakwell has performed multiple times in Carnegie Hall, Lincoln Center's Alice Tully and David Geffen halls, as well as Saint Thomas Church Fifth Avenue and Trinity Church Wall Street, in New York. He has appeared as a soloist with organizations such as Internationale Bachakademie Stuttgart in Germany, Bach Collegium Japan, Oregon Bach Festival, Philharmonia Baroque Orchestra in San Francisco, Indianapolis Baroque Orchestra, Charlotte, Indianapolis, and Quad City symphonies, as well as upcoming appearances with the Kansas City and Nashville symphony orchestras.
Specializing in the Evangelist and tenor roles of J.S. Bach, Coakwell has performed numerous productions of all of Bach's major oratorios — St. Matthew Passion, St. John Passion, Christmas Oratorio, and Mass in B-Minor — as well as many of Bach's cantatas. An enthusiast of Benjamin Britten, Coakwell has appeared in multiple productions of Britten's Canticles, Serenade for Tenor, Horn, and Strings, and St. Nicolas. Among the most prominent solo and titular roles of other frequently performed composers include: Handel's Samson, Judas Maccabaeus, Israel in Egypt, Alexander's Feast, and Messiah; Haydn's Creation; Mozart Requiem and Mass in c (Levin and Süssmayr completions); Medelssohn's Elijah; and Beethoven's Missa Solemnis.
Coakwell serves on the voice faculty at Ithaca College, he has appeared around the US and internationally as a guest teaching artist, and he holds an Artist Diploma in Vocal Performance from Yale University, a DMA and MM from Texas Tech University, and a BM from the University of Texas at Austin.
www.danncoakwell.com
---
Angela Young Smucker, Mezzo-Soprano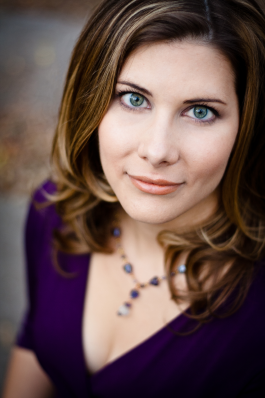 "Fiery Chicago mezzo" Angela Young Smucker has received critical acclaim for her "rich, secure mezzo-soprano" (Chicago Tribune) and her "show-stopping" voice (The St. Paul Pioneer Press). Her performances in concert, stage, and chamber work have made her a highly valued artist.
Highlights of the 2013-14 season include debut performances with Cleveland-based chamber ensemble Les Délices in a program of rarely heard French Baroque alto cantatas; a world premiere of a new composition by Robert Kyr paired with Bach's Christmas Oratorio under the baton of James Kallembach; and return appearances with the Haymarket Opera Company, Newberry Consort, Bach Colleguium San Diego, and Grammy-nominated ensemble Seraphic Fire.
Ms. Smucker continues to build a reputation for her "discerning interpretation" (SanDiego.com) of the works of J.S. Bach. She is a recent Virginia Best Adams Master Class Fellow (Carmel Bach Festival), and has been a featured soloist with the Oregon Bach Festival, Leipzig Baroque Orchestra, and Bach Institute of Valparaiso University.
Originally from "The Home of Popeye" in Southern Illinois, Ms. Smucker is based in Chicago and is a member of the voice faculty at Valparaiso University. She holds degrees from Valparaiso University and University of Minnesota.
---
Maria Didur,
Faculty Collaborative Artist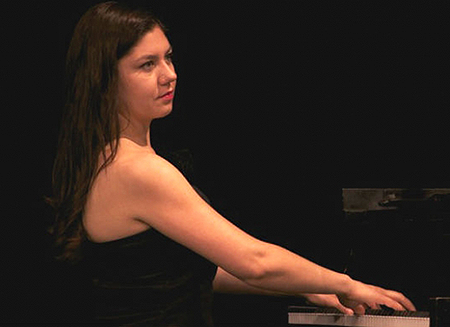 Russian pianist, Maria Didur, currently works as collaborative pianist at SDSU, playing for the Aztec and Chamber choirs, under the direction of Dr. Patrick Walders. Ms. Didur accompanies singers and instrumentalists for Concerto competitions, San Diego Opera entrance auditions, Virginia Hawk Competition, the MET competition, NATS competition, college juries and graduation recitals, and choir concerts. She has worked with Bach Collegium San Diego, Musica Vitale, SACRA/PROFANA, San Diego Pro Arte Voices, San Diego Children's Choir, and Lyric Opera. She is passionate about her work and remains an active performer and educator on the West Coast.
---