About Us
The San Diego Pro Arte Voices is a non-profit 501c3 arts organization dedicated to presenting innovative performances as an individual professional chamber choir and as a larger collaborative partner with organizations such as art galleries, museums, universities, dancers, and instrumental musicians. Established in 2013, the San Diego Pro Arte Voices enjoys presenting traditional and non-traditional events in diverse venues bringing the arts and the artistic process to as many people as possible. The organization provides performing opportunities and career options for students and professionals in San Diego, California. The San Diego Pro Arte Voices Chamber Choir is Choir-in-Residence at the annual San Diego Summer Choral Festival.
San Diego Pro Arte Voices mission is to engage, enrich, and inspire the San Diego community through the transformational power of great choral music, performed by local professional artists.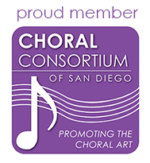 Our Vision
to UNITE…the voices for the arts within the community.
to PROVIDE…meaningful performances for artists, academics, and audiences.
to PROMOTE…all aspects of the arts and the artists who create art through
innovative collaborations.
to PERFORM…significant choral literature in unique and exciting venues.
Our Future Plans
COMMISSION NEW WORKS – We will to be a vehicle for living composers and hope to have a commissioning entity in each season. This could include a concert of all new music or a single performance of a premiere.

SEEK NEW COLLABORATIVE PROJECTS – We wish to invite other arts leaders to propose collaborative projects. For example, if a choral performance includes French impressionistic music, we would invite artists, museums, and dancers, to provide French impressionistic showcases in their disciplines.

ENGAGING AUDIENCES – As a voice for the arts, we will engage audiences of all ages, delivering performances with online and in person pre-concert conversations, in-concert commentary, and between concert communication.

EDUCATIONAL OUTREACH – Educational outreach is a priority as we cultivate future voices for the arts. Students, teachers, music directors, choreographers, visual artists, and others involved in the education of artists can expect workshops, reduced priced and/or free admission to performances, and other special opportunities of connecting to our artists.